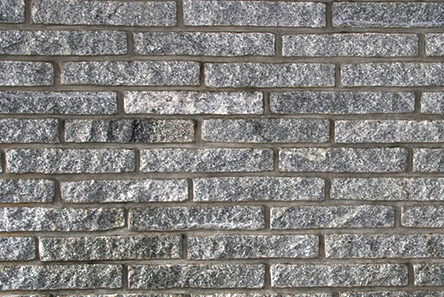 Exterior stone walls
Nandi Housing's one of a kind granite finish is created by the extensive use of Sadarahalli stone masonry. Beyond providing unmatched strength, stone external walls are far superior to regular blockwork masonry because they:
are plaster, paint and maintenance free
have the best thermal properties
only become more beautiful with time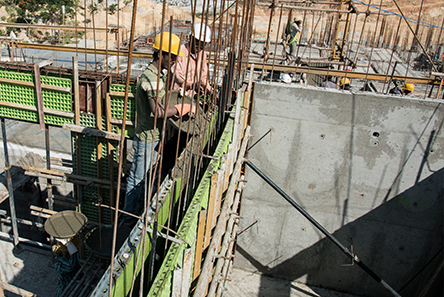 RCC Internal Walls *
Cast-in-situ, Reinforced Cement Concrete (RCC) walls are hugely advantageous. In addition to creating a monolithic structure that can withstand far greater stresses than traditional frame structures, they result in:
more spacious rooms
vastly improved heat, sound and fire insulation
perfect wall finishes with no possibility of plaster cracks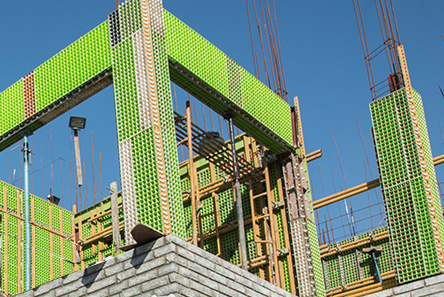 Plastic Formwork *
We have eliminated the use of plywood which is traditionally used for concrete formwork and now use recyclable plastic instead. This material speeds up construction while allowing for a greatly improved finish. Being 100% recyclable, it is also far more environmentally friendly than plywood formwork.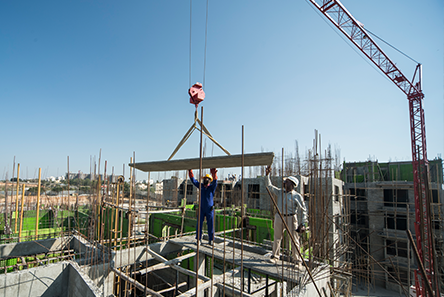 Pre-Cast Roof Slabs
Pre-cast concrete slabs ensure that we do not use environmentally unfriendly plywood formwork. It also allows for:
maximum strength of the slab through careful monitoring during production in our factory
perfect, plaster-free roof finish
most efficient execution process to ensure on time finishing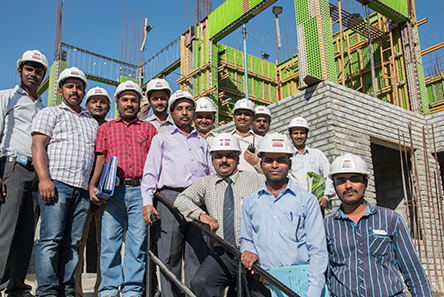 In-house Execution Team
Our in-house execution team is one of the best in the city. By maximizing technology utilization, we have put together a lean, highly skilled and efficent in-house execution team. Each member of the team takes pride in our product, carefully monitors and dedicates themselves wholly to every step of the creation process.
Environmentally Sustainable Practices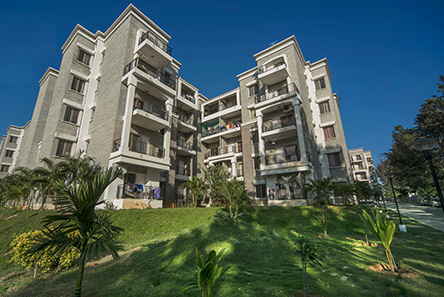 Nandi Housing has arguably the lowest carbon footprint among any builder in Bangalore. Among several environmentally friendly measures we have adopted, some particularly noteworthy features including:
The stone advantage - Stone walls greatly reduce consumption of environmentally harmful cement and paint. The stone is also locally sourced, further reducing our carbon footprint.
Zero waste policy - We reuse ALL 'waste' materials generated during construction.
Save Our Trees - During the design stage, we take great pains to plan around any existing trees at site. We have also minimized the use of plywood sheets & silver wood runners, a huge reduction of wood consumption.
Water conservation - During construction, we ensure that water from the entire site area is harvested. Consumption of fresh water is also dramatically reduced by using recycled water for curing of concrete.
* Construction practices introduced in Nandi Citadel